Sunday Morning Adult Education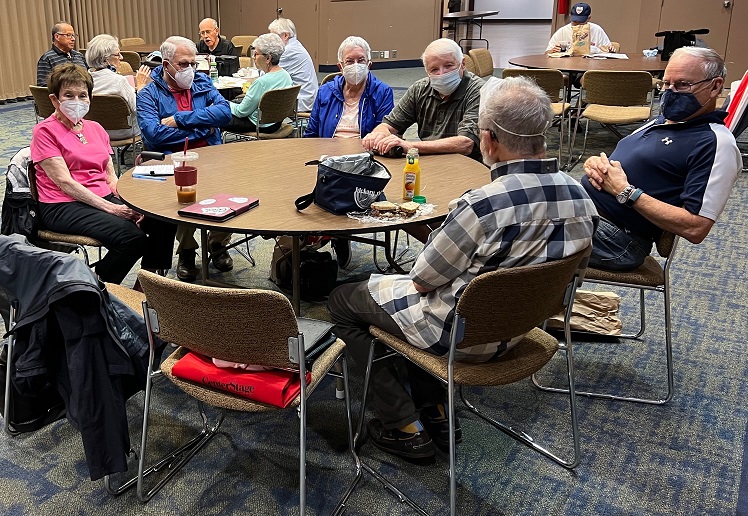 Our adult education programs are interactive experiences between dynamic speakers and participants. Topics may focus on Jewish and world history, Biblical issues, and comparative religion among others, prompting discussions of social, cultural and political influences. Normally held as two hour sessions on Sunday, the programs are free and open to the entire community, not just members.
For additional information, please feel free to get in touch with the Adult Education Chair or contact us.
Lunch and Learn
Held weekly on Thursdays from September through June, Rabbi Joseph leads textual discussions on Jewish history, philosophy, holidays, or other topics of interest to participants. Discussions are extremely interactive and enlightening. Participants are asked to bring a brown bag lunch to enjoy with coffee during the discussion. Please contact Rabbi Joseph to participate.
Scholar in Residence
Bet Aviv's annual Gene Klein Scholar in Residence Program is an immensely popular program dedicated to the memory of one our founding members. Our congregants are provided with several opportunities for learning about topics of interest to Reform Jews. In recent years, our congregants and guests have had the opportunity to hear Rabbi David Sapperstein, then Chair of the URJ Religious Action Center, speak on "Racing with God: The Use and Abuse of Religion in American Elections" and "The Impact of the 2012 Elections on the Jewish Community's Agenda." Subsequently, we have heard from Alan Cooperman, Director of Religious Research at the Pew Research Center discuss the Religious Landscape in the US and the World, and "The Rise of the 'Nones,'" trends in affiliation and growth/shrinkage of religions. We were also fortunate to hear from Mitchell Duneier, author of the book "Ghetto," trace the evolution of the term in history and to see photographs of "A Beautiful Ghetto" taken by self-taught Baltimore photographer Devin Allen.
Adult Education Program Overview 
Click here to download an overview of all of Bet Aviv's Adult Education programs for this year.