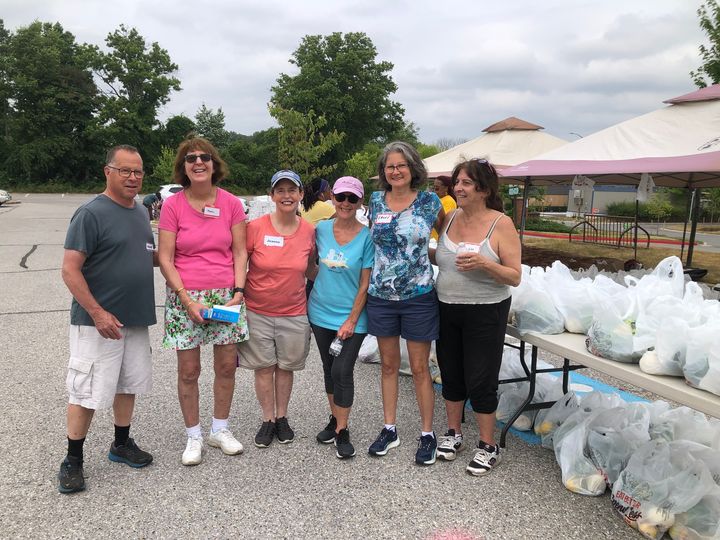 Volunteers Complete Food Bags for the Hungry
As a community that thrives on volunteer efforts, Bet Aviv welcome your experience and knowledge in supporting existing Bet Aviv's efforts like Adopt-a-Road, High Holidays food drive ,the Route One Day Resource Center for the homeless, Our Daily Bread soup kitchen in Baltimore, knitting hats for the homeless in Baltimore, and the Chili cook-off to support Bridges to Housing Stability in Howard County. Or if you prefer, gather a new group to support your favorite cause — at Bet Aviv there are always others to help and who welcome new programs. Whether you want to mentor a school child, improve the environment , aid others overseas, or prove services for the needy, Bet Aviv has a place for an active you.
About Social Action
Bet Aviv's Social Action programs aim to energize and actively engage congregants to make a difference in our community locally and globally. All participants are invited to meet annually to review existing programs and develop new ones. Typically we have over six local initiatives and one-two international initiatives in any given year, designed to make our community and the world a stronger, healthier and better place to live.
Where to Find Out About Our Activities
You'll always see announcements of upcoming activities and volunteer calls in "What's Nu" and "The Observer." These highlight what both one-time or regular volunteers can contribute to individual activities ranging from our quarterly team at the Our Daily Bread Soup Kitchen" and annual High Holiday food drive to our monthly group of volunteers for the Grassroots Day Resource Center and three times each year Adopt-a-Road Cleanup.
How to Find Out More or to Join
We invite you come to our annual fall meeting and "get involved" with Social Action programs to become part of a congregational community of caring Jews aiming to make a difference! For questions or details, please contact the Social Action Co-Chairs or send us a message.