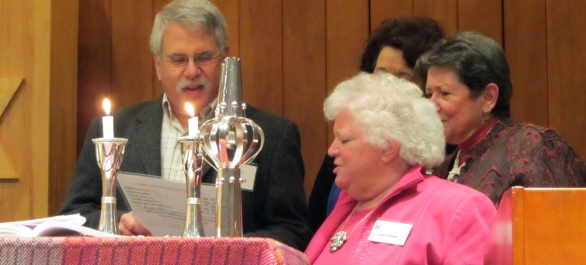 Bet Aviv's officers are installed during a Shabbat Service
Bet Aviv is governed by a Board of Directors who meet once per month to discuss issues of importance to our synagogue.  The Board consists of the officers who comprise the Executive Committee, and the Committee Chairs and Members-at-Large who form the Board of Directors.  We discuss new directions for Bet Aviv, review our financial health, hear status from Committee Members and respond to various opportunities to do mitzvahs in the community.
Executive Committee
Bet Aviv's officers, except for the immediate past president, are elected for a two-year term and may continue in the same position for one additional two-year term. Click on the Secretary and Treasurer Titles to see the responsibilities for that office. Bet Aviv's officers are:
| | |
| --- | --- |
| President | Azi Siner |
| Vice President | Morris Levine |
| Vice President | Linda Feldmesser |
| Secretary | Gayle Miller |
| Treasurer | Art Brody |
| Immediate Past President | Richard Madonna |
The Executive Committee meets monthly to discuss operational issues and recommends options for complex issues facing the board.
Trustees/Committee Chairs
Click on the links to view a list of the responsibilities for that role within Bet Aviv.